Fruit and Mixed Seed Flapjacks
Flapjacks are a healthy snack when you need something sweet but don't want to be reaching for the biscuits! Served warm with some custard, they also make a great dessert.
Ingredients
175g unsalted butter plus extra for greasing
125g caster sugar
40g agave syrup or golden syrup
250g porridge oats (gluten and wheat free)
125g mixed dried fruit (that includes mixed peel if possible)
50g mixture of pumpkin - sunflower and sesame seeds
100g dark chocolate chips – optional but good!
Pinch of ground ginger
Pinch of salt
Information
Serves: 12
Diet: Gluten and Wheat Free
Method
Prep time: 10 mins Cook time: 20 mins
Heat oven to 190° C, 170° C fan oven, gas mark 5. Grease and line a shallow 30x35cm baking tin.
Melt the butter, sugar and agave/golden syrup together in a pan over a low heat. Mix together the oats, ginger and a pinch of salt. Stir into the butter mixture, then add all the fruit, seeds and chocolate chip - if using.
Turn into the prepared tin and bake for 20-25 minutes until golden. Cut into squares while still warm, but leave in tray until fully cold and set. Store in an airtight container for up to a week.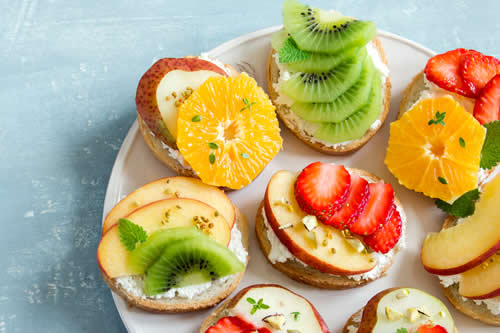 Sides & Snack Recipes