Moist Banana, Pecan and Chocolate Loaf Cake
This banana, pecan and chocolate loaf cake is lovely and moist and makes a great addition to any picnic or lunch box. Bring along one of these to a friend's coffee morning and you will be invited again, for sure!
Ingredients
170g plain gluten and wheat free flour
2 level tsp gluten and wheat free baking powder
170g light muscovado sugar
2 large free-range eggs
150g bar chocolate chopped
150g pot natural yoghurt
100g pecans chopped
½ level tsp bicarb soda and salt
Information
Serves: 8
Diet: Gluten and Wheat Free
Method
Prep time: 15 mins Cook time: 60 mins
Preheat oven to 170°C, 150°C fan, gas mark 4. Grease and line a 3lb loaf tin with greaseproof paper. Put flour, salt, baking powder and bicarb into a bowl and mix.
In separate bowl, beat the eggs and sugar until pale and fluffy (I use an electric whisk). Stir in the mashed bananas, chocolate, yoghurt and 50g pecans, followed by the flour mixture. Spoon into the loaf tin and sprinkle with remaining pecans.
Bake for 1 hour or until skewer inserted into center comes out clean. Leave for a few minutes in the tin, then cool on a wire rack. When fully cool, slice as required and keep in an airtight cake tin.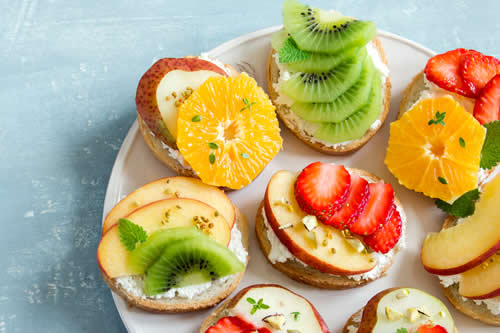 Sides & Snack Recipes