Cheese, Potato and Ham Croquettes
These taste far better than the shop bought variety and are very simple to make. Make a big batch of these and serve them hot with a homemade dip when you have guests over for drinks and nibbles.
Ingredients
270g potatoes (Maris Piper are ideal) - peeled and chopped
125g thick ham - cubed
100g strong Cheddar - grated
Salt and freshly milled black pepper
100g gluten and wheat free breadcrumbs - to coat
50g butter
50g gluten and wheat free plain flour
220ml semi-skimmed milk
1 bay leaf
½ tsp nutmeg - grated
Cooking spray
Information
Serves:
Diet: Gluten and Wheat Free
Method
Prep time: 30 mins Cook time: 10 mins
Preheat the oven to 200°C, 180°C fan, gas mark 6.
Cook the potatoes in a large pan of water, 20 minutes from boiling. Drain and mash until smooth.
Melt the butter in a pan and whisk in the flour. Season well and add the nutmeg. Gradually whisk in the milk on a medium heat and add the bay leaf. Cook for a few minutes until thickened.
Add the cheese, mashed potato and ham and stir well. Allow to stand for around 5 minutes to infuse. Remove the bay leaf and spread the mixture out into an even rectangle on a cling film lined baking tray.
Divide into 16 even sized rectangle and roll each one into a short, fat sausage. Then roll the croquettes in the breadcrumbs.
Remove the clingfilm from the baking tray and spray the croquettes with a little cooking oil. Cook in the preheated oven for 8-10 minutes until warmed through. Make sure you don't overcook these as they can start to spread and collapse.
Serve warm with some homemade guacamole or humous and a mixed salad.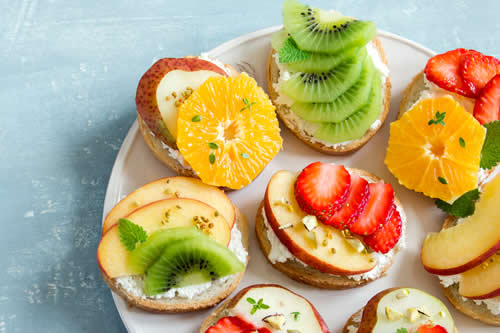 Sides & Snack Recipes