Liver Pate
This rustic liver pate recipe is baked in a loaf tin and is deliciously rich and just perfect served as a dinner party starter. Pairing it with a sweet chutney and choice of bread, oatcakes or crackers, it really is quite divine.
Ingredients
2 tbsp butter
1 large white onion - finely chopped
2 cloves of garlic - minced
2 tbsp freshly chopped sage
500g pigs liver
75g fresh gluten and wheat free breadcrumbs
350g gluten and wheat free pork sausage meat
¼ tsp freshly grated nutmeg
75ml port
10 rashers smoked streaky bacon
Salt and black pepper
Information
Serves: 8
Diet: Gluten and Wheat Free
Method
Prep time: 15 mins Cook time: 120 mins
Preheat the oven to 180°C, fan 160°C, gas mark 4
In a large frying pan, heat 1 tbsp of the butter and gently fry the onion, sage and garlic for 3-4 minutes. Add the breadcrumbs and transfer the mixture to a large bowl.
You might want to wear some clean rubber gloves to do this bit - remove any membranes and tough veins from the liver with a pair of sharp kitchen scissors and place it in a bowl and cover with boiling water. Allow it to sit for 10 minutes, then drain and roughly chop it. Put the liver, sausage meat and nutmeg in a food processor and blitz until combined. Add this to the onion mixture and pour over the port. Season and mix well until fully amalgamated.
Grease a 1 litre loaf tin with the remaining butter and a piece of foil that is big enough to cover the tin. Next line the tin with the streaky bacon, making sure to overlap each piece slightly, and cut a couple of pieces for each end.
Carefully spoon in the mixture, pressing firmly into the corners and cover with the greased foil. Place the tin in a deep roasting tray and pour boiling water half way up the sides of the loaf tin and carefully place in the oven and cook for 1 hour 45 minutes.
Take the loaf out of the oven and allow to cool. Chill in the fridge for at least 7 hours, overnight is best. Remove the pate from the tin and serve it sliced with some sweet chutney and your choice of bread, oatcakes or crackers – GF/WF of course!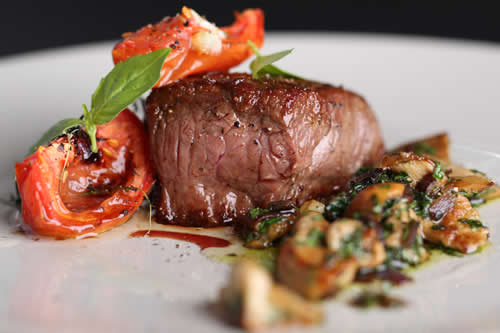 Main Course Recipes