Gluten & Wheat Free French Recipes
There are 11 French recipes.
Beef Bourguignon
This popular French recipe that originates from Burgundy is a delicious slow-cooked stew made with beef and red wine.
View recipe
Duck Confit
Duck confit is a traditional French dish that is generally made with a whole duck. This recipe just uses the legs and it is rich, a special occasion dinner in our house. You start preparations the day, don't be deterred, it's worth the effort!
View recipe
White Chocolate Creme Brulee
A very rich and decadent dessert that is naturally gluten and wheat free. Make them small as you won't need a lot of this deliciously creamy pudding.
View recipe
Berry and Almond Clafoutis
This French pudding is simply delicious and full of mouth-watering goodness. Serve it warm with some vanilla ice cream; the perfect pudding to indulge your guests.
View recipe
Baked Camembert with Crudites
Oven cooked soft cheese that is studded with garlic cloves and fresh thyme tips is a crowd-pleaser. This is an easy recipe for a dinner party or great for a quick weekend supper. Serve with your choice of crudites and gluten and wheat free toasted bread and remember the rule, no double dipping!!!
View recipe
Rustic Ratatouille
This vegetable dish comes from France and is a colourful dish that can be served alongside meat and fish. Those following a vegetarian diet can eat this as a main course, and with some added grated cheese and some gluten and wheat free bread to mop up the juices, it makes a perfectly balanced meal.
View recipe
Liver Pate
This rustic liver pate recipe is baked in a loaf tin and is deliciously rich and just perfect served as a dinner party starter. Pairing it with a sweet chutney and choice of bread, oatcakes or crackers, it really is quite divine.
View recipe
Dauphinoise Potatoes
In my opinion, the best potato side dish there is - thin slices of potato slow-cooked in the oven with cream and garlic. I don't make these enough at home, probably due to their calorific content!! But when I do, all the family love them.
View recipe
Raspberry Creme Brulee
Crème brulee is a dessert that is naturally gluten and wheat free. The sharp tang of the raspberries cuts through the rich decadent custard and is the perfect dinner party pudding.
View recipe
Homemade Croutons
Making your own croutons for your salads and soups is so easy. They taste so much nicer than the shop bought varieties, which can be difficult to find when you follow a strict gluten and wheat free diet.
View recipe
Page 1 of 2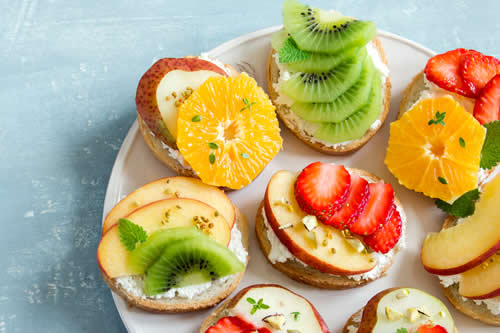 Sides & Snack Recipes