Gluten & Wheat Free Treat Recipes
There are 43 treats recipes.
Dark and Stormy Coffee Cocktail
This is a slight twist on the popular dark and stormy cocktail, especially for you coffee fans.
View recipe
Espresso Martini
This classic coffee cocktail is a must for any dinner party. Make the espresso and sugar syrup in advance and wow your guests with this delicious offering.
View recipe
Apple Traybake
A delicious cake that can be eaten hot as a dessert but is equally delicious cold, served with a cup of tea.
View recipe
Florentines
These florentines are luxury biscuits made of mainly nuts and preserved fruit, coated on one side with chocolate.
View recipe
Peanut Butter Granola Squares
Delicious nutty granola bars that are great in lunch boxes or to accompany a cup of tea. You can easily add in your own ingredients such as orange zest, chopped dates or cherries.
View recipe
Gingerbread
This gingerbread can be eaten cold as a cake or served hot with custard or ice cream for a delicious pudding. The key ingredient is the black treacle, which gives the gingerbread its rich distinctive flavour.
View recipe
Coconut Macaroons
This is a really simple coconut macaroon recipe that is naturally gluten and wheat free.
View recipe
Chocolate Truffles
Delicious homemade truffles make the perfect gift and are deceptively easy to make. Present them in a fancy gift bag or box or serve them with coffee at a dinner party to gasps of delight. Naturally gluten and wheat free they can be made with or without alcohol and the flavours are endless. Use different fillings and coatings to create a range of fabulous varieties.
View recipe
Rocky Road
This Rocky Road recipe is really simple and makes a great afternoon tea offering or lunch box addition. There are so many different recipes around, but this is the one my family love. You can add in other ingredients or omit things you don't like – that's the best thing about rocky roads, make them your own!
View recipe
Chocolate Fudge
If you are looking for a great gift idea, then this chocolate fudge recipe could be what you are after. Make if for friends and family and pop it in a decorative bag or tin for a handmade gift that beats any shop bought fudge. This recipe uses the microwave, so it's much quicker than traditionally made fudge, which can be quite laborious.
View recipe
Page 2 of 5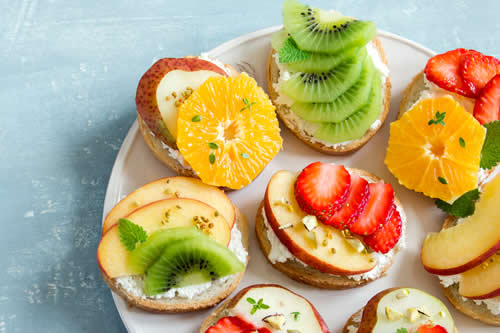 Sides & Snack Recipes