Coffee Semifreddo
A great dessert that can be made in advance and then just sliced and served straight from the freezer. Naturally gluten and wheat free, this recipe is perfect for busy cooks who like to prepare well in advance.
Ingredients
1 tbsp freshly brewed coffee - allowed to cool
1 tbsp brandy
4 large free-range eggs - separated
300ml double cream
100g golden caster sugar
100g Toblerone - chopped
Grated dark chocolate - to decorate
Information
Serves: 8
Diet: Gluten and Wheat Free
Method
Prep time: 20 mins Cook time: 0 mins
Grease and line a 1 litre loaf tin with cling film. Put the cold coffee, brandy, egg yolks and sugar into a large bowl. In another large bowl, place the egg whites and with an electric whisk, beat the egg whites until stiff. Next beat the egg yolk mixture until it is thick and leaving a trail.
Now beat the cream in another bowl until it is thick and holds its shape – do not beat it too thick as it won't then fold into the other ingredients. By whisking the ingredients in this order, you don't then need to wash the whisks until the end.
Fold the cream into the coffee mixture and then carefully fold in the whites. Add the Toblerone and gently fold through and tip it all into the loaf tin. Cover with cling film and place in the freezer.
Once frozen, remove from the tin and wrap in foil and return to the freezer. This will keep for up to 6 weeks, but I guarantee you won't be able to resist it for that long!
To serve, remove the foil and place onto a platter. Serve sliced, topped with grated chocolate or chocolate coffee beans.
The Toblerone can be substituted with other gluten and wheat free chocolate bars - experiment with your favourites.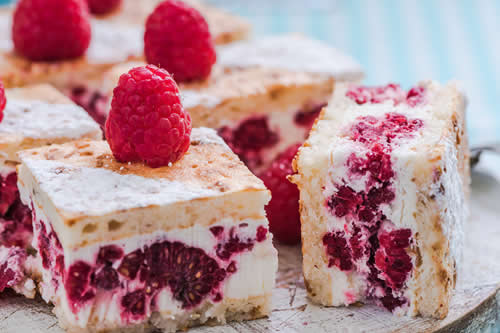 Sweet Treat Recipes