Gluten & Wheat Free American Recipes
There are 12 American recipes.
Chicken and Bacon Bites
These chicken and bacon bites are perfect hot buffet food; watch them fly off the plate! Naturally gluten and wheat free, they are simple to make and taste delicious.
View recipe
Sweetcorn Chowder
This sweetcorn chowder has a delicate smoky flavour and by using frozen sweetcorn means it's quick to rustle up. Suitable for vegans and those following a gluten and wheat free diet, it's a great recipe to have in your repertoire.
View recipe
Buttermilk Pancakes
These are American-style pancakes made with buttermilk and they make a tasty weekend brunch. Serve them with a variety of fillings; my personal favourites are bacon with maple syrup and nutty chocolate spread with banana.
View recipe
Mashed Potato Pancakes
These mashed potato pancakes can be eaten for brunch, lunch or a midnight snack. Whatever time of the day, you are sure to love them, and they are a great way to use up leftover potatoes. With just a handful of ingredients, they are quick and easy to make.
View recipe
Peanut Butter and Banana Cheesecake Ice Cream
This peanut butter and banana cheesecake ice cream recipe is a super quick and easy dessert that you can rustle up in no time at all. It is inspired by two ingredients that are hugely popular in America, maple syrup and peanut butter. American's love their ice cream and I think you will love this flavour – a bit different from vanilla!
View recipe
Tex Mex Frittatas
Spice up a frittata with these Mexican flavours for a tasty light lunch. Serve them cold for a great picnic or lunch box filler.
View recipe
Vegetable Chilli
This chilli is super easy to make and you can pretty much add whatever vegetables you like. It's a great way of eating lots of veg and is very tasty too. Serve it with rice, it's naturally gluten and wheat free and is a great dish to make on a cold winters' night.
View recipe
Beef Burgers
These delicious beef burgers are perfect for BBQing but also just as tasty fried in a pan and served inside a soft roll with plenty of caramelised onions. Halloween, Bonfire night, birthday party or a weekend treat meal with the kids; they go down well at any time of the year! Naturally gluten and wheat free, these home-made beef burgers contain just a few simple ingredients, with no unnecessary flour, breadcrumbs or other fillers to pack them out. Once you have tried these and can see how easy they are to make, you won't buy a shop bought burgers again!
View recipe
BBQ Sticky Spare Ribs
These sticky spare ribs are a great little dinner party starter. Cooking them first on the hob ensures they are succulent and the meat just falls off the bone. They can be prepared in advance, so when your guests arrive, you literally just need to pop them in the oven. Using shop bought BBQ sauce cuts down on prep time and your guests will never know!
View recipe
Baked Chicken Goujons
The children will love you for making these! Homemade baked chicken goujons are a healthy alternative to the shop bought varieties. Pure chicken breast with a breadcrumb coating; I think they probably work out cheaper to make too. Simple ingredients and then oven baked to perfection.
View recipe
Page 1 of 2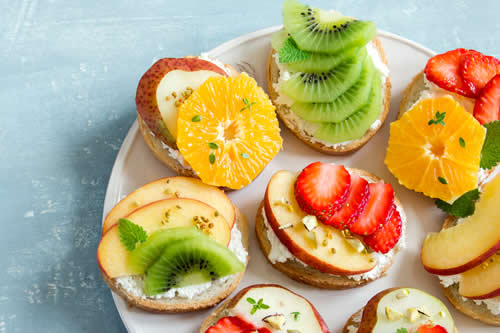 Sides & Snack Recipes